Cutting & Joining Pipe Entries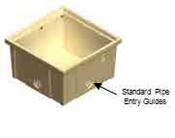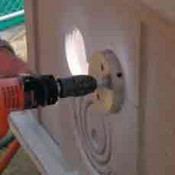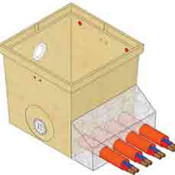 1. Mark pipe entries on pit and/or riser walls or use preformed standard pipe entry guides/plastic inserts on pit walls as guide (Figure 1 & 2).
2. If multiple pipe entries are required, refer to relevant regulatory authority for minimum cable separation spacing. ACO recommends minimum 50mm between penetrations to avoid local cracking.
3. Use correct size diamond tip holesaw and remove pit wall to fit pipe (Figure 3). ACO offers holesaws to facilitate this operation.
4. A masonry grinder may be used to enlarge opening for pipes entering pit at an angle.
5. For multiple pipe entries, ACO recommends concrete haunch around all pipes to preserve pit rigidity. Minimum of 100mm concrete encasing is recommended around pipes and 200mm measured out from pit wall. Use compacted grade 25MPa* concrete. (Figure 4)
6. Install pit and pipe. Cut pipe flush with inside pit wall so clear working area of pit is not impeded.
7. Seal connection with proprietary cementitious sealing compound. (Prevents moisture ingress into pit during service.)
For pit installation details, click here.