Concrete encased cover and frame systems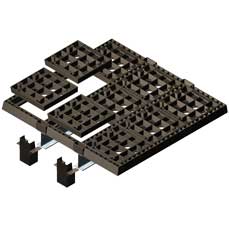 When a heavy duty cable pit is required or where paving needs to be bedded into the cover, ACO recommends its Rhinocast® ductile iron access cover and frame system. These access covers are installed above the pits and require a supporting concrete haunch.
Adjusting to a finished ground level
Sometimes decisions need to be made on site to determine the exact depth of the pit required. The EzyBrixx pit depth can be increased after the pit has been installed. Connectors are available to support risers in 150mm increments.



Large pits and pits subjected to high loads will require reinforcing. All reinforcing will be supplied and calculated at the quoting stage.