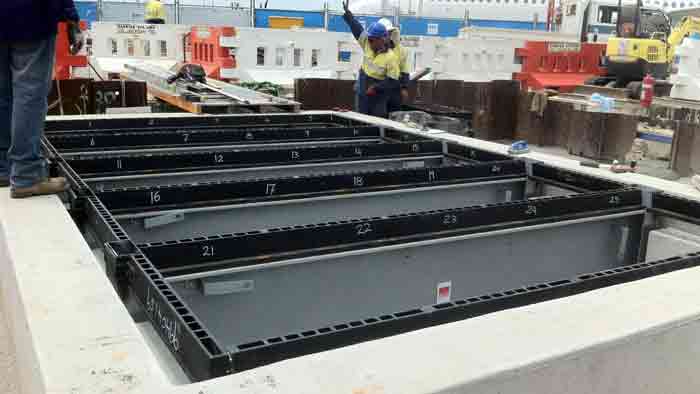 Access Cover System Installation
If an access cover is used, it must be installed directly above pit.
1. Form rebate to size (to support the frame)
2. Position access cover in rebate
3. Check unit is level and not rocking
4. Pour & vibrate concrete around access cover, and in cover if concrete filled recessed cover is used
5. Level and finish concrete, lay pavers or pavement materials. Urbanfil®/ Pavermate® covers are filled with concrete to minimum depth of 45mm as concrete is integral to strength of these covers. ACO does not recommend tiles deeper than 25mm in Urbanfil®covers and pavers more than 40mm deep in Pavermate®covers.
a. Recessed pan depths;
i. Urbanfil® - 85mm,
ii. Pavermate® - 135mm,
iii. Rhinocast® - either 12mm or 40mm dependent on steel edging height.
Refer to notes beneath parts list table
6. Allow concrete to cure before removing cover – early removal may cause twisting of frame
ACO sells lifting keys dependent on lid or cover type. Refer to accessories.
For full installation details, click here for Rhinocast® and click here for Urbanfil®/Pavermate®.